Only a few days left to complete any outstanding EquiBuild applications.
As previously announced, the Interface Suite will be withdrawn from May 5, 2023, 4 PM (ET).
Here's a reminder of the changes:
1. A new way to access EVO Insurance
After May 5, 4 PM (ET), the Interface Suite will invite you to perform an update. This will uninstall the software from your computer and a new icon will be automatically added to your desktop. This icon will become your new entry point for EVO Insurance: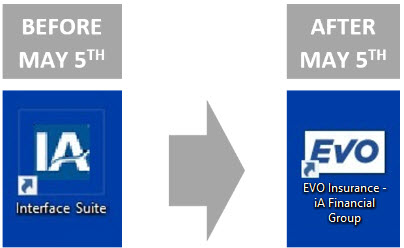 Consult this document for more information. EVO Savings is not impacted.


2. EquiBuild closed to new sales from May 5, 4 PM (ET)
Any outstanding EquiBuild applications in the Interface Suite must be submitted by April 28, 2023.
Existing clients will continue to benefit from the latest enhancements to the EquiBuild Fund:

New asset allocation strategy to provide a higher risk-adjusted credited rate over the long term




Increased weighting of variable income assets in the target mix




Revised smoothing formula applied to the returns earned on the Fund's assets.



Remember that the annual credited rate of the EquiBuild Fund for 2023 is 5.10%.
3. Changes to Single Premium Annuities (SPA)

Effective May 5, 4 PM (ET), SPAs will be subject to a minimum premium of one million dollars ($1M).
To request an illustration for a SPA of $1M or more, simply complete form F50-252A and send it to your iA customer service centre.


If you use the Vision tool in the Interface Suite, we recommend that you use external tools from now on, such as Morningstar.
Questions?
For technical questions, contact the Help Desk:
- interface@ia.ca
- 1-888-610-5101