Use Facebook and Instagram Live to promote your services!
Extremely popular, these live video platforms are excellent means to get closer to your clients and prospects. You can also use them to present your career and recruit.
In fact, from 2019 to 2020, the popularity of Facebook Live increased by 330%! 😱
Here's how to use them:
On Facebook: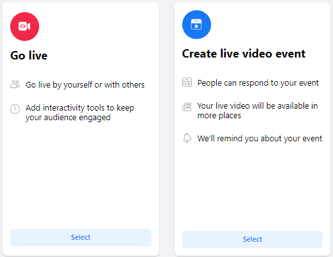 At the top of your news reel, click on What's on your mind, then on Go Live.
At this step, you can choose to Go live right away or to create an event.

Add a title and a description, as well as the other information requested based on how you chose to proceed.

Once you're ready, click on Go Live or on Create an event. On the date of your event, click on Configure live video.
Once you're done, click on End. You can then decide to save your video by posting it. Remember that you can only post the video for yourself by choosing Only me. Once the video has been posted, click on "…" at the top right and select what you want to do.
On Instagram:
Click on at the top right or slide the screen to the right, then select Go Live in the menu at the bottom.

If you wish, you can add a title where indicated.

Then, click on

at the bottom to start the video.

Once done, click on End at the top right side of the screen, then on Confirm. At this step, you can choose to save your video in your thread or share it on IGTV

.
Our tips!
Actions are necessary before, during and after successfully creating a Facebook or Instagram Live. Here are our tips:
Before the Live
For a video about a product, try and tie in with the season. I.e. Discuss RESPs during back-to-school season.

We advise you to create an event, as it provides an even bigger audience given that it is planned and can be promoted.

Prepare what you're going to say and practise. Although informal, you should be prepared so that you make a good impression.

You should also think about your background. Make sure it's neutral and professional.
During the Live
Check out the comments from time to time and answer the questions you want to answer. You will have the opportunity to go back to them and answer each one.
You can also comment. However, be careful not to lose your followers' attention. Prioritize answering verbally during the broadcast.
Speak directly to your audience and look into the camera. Reading a prepared script is not a good technique; you'll lose the interest of your audience.

Towards the end, invite your followers to contact you using the means you prefer: Messenger, phone, text message, email, etc.
After the Live
Share your video on your professional Facebook page or on Instagram. Other interested clients and prospects can watch it when they want.

Get the contact information of interested prospects and schedule appointments with those who want one.

Read all comments from participants and answer all questions. Constructive comments will help you improve your practices in the future.

Pay attention to who shares your video. Like their share or leave a comment.

Analyze your video's statistics so that you can continue to improve your initiatives.
Now it's up to you!
To learn about other tips on social media, go to your Web Showcase!