The RRSP or TFSA marketing campaign is in full swing. Have you seen the launch email in your inbox?
Since the beginning of the pandemic, the savings rate for Canadians is on the rise (+20.6%), which is why we are offering you a major marketing campaign. Seize every sales opportunity!
To support you, iA offers you some additional tools to make this campaign a success!
Did you know?
iA has ranked first in net segregated fund sales in Canada since 2016. Discover more in this short video: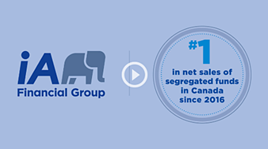 Happy campaign!