Good news! You can now check out the 2022 Sustainability Report which outlines the company's environmental, social and governance (ESG) achievements and performance.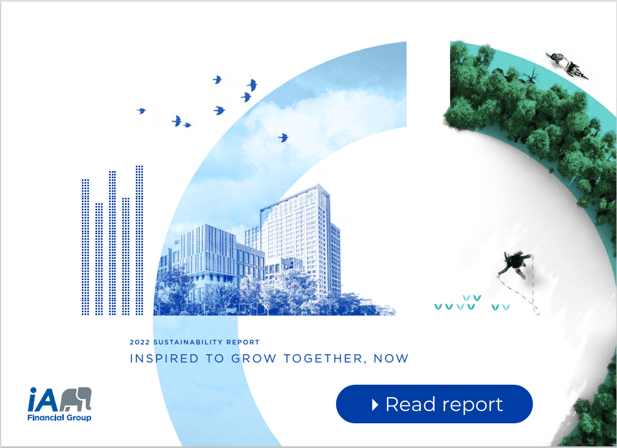 Highlights:
Received "Carbon-neutral business" certification for Scopes 1 and 2 for the third consecutive year

Issued our first sustainable bond totalling $300 million

Launched four new ESG segregated funds

Donated $8.5 million dollars to various organizations working in social and community support, healthcare, education and environmental fields
Contributing to the wellbeing of your clients: an important part of our ambition
Sustainability is a priority that guides our day-to-day achievements in environmental, social and governance matter. Our ambition: to be a company that contributes to the sustainable growth and wellbeing of its clients, employees, partners, investors and communities.
"2022 was a turning point for our ESG strategy. After patiently building our foundation and learning to measure our progress, we're now entering an expansion phase with far more visible results."
— Denis Ricard, President and Chief Executive Officer, iA Financial Group
For our clients and therefore YOUR clients, we continue to develop products, tools and services that integrate ESG criteria. The launch of four new socially responsible segregated funds last October brought the number of funds for this type of investment to seven, making it one of the most comprehensive ESG fund lineup on the market. To learn more about this launch, see the iA CONNECTED October 24, 2022 article.
Sustainable development creates long-term value for the financial markets and society as a whole.