We are proud to announce that, as of January 20, 2022, two new features are being added to our socially responsible managed solutions, the SRI (Inhance) funds.
WHAT ARE THESE TWO NEW FEATURES?
The iAIM portfolio management team joins Vancity
iAIM's portfolio managers Tejsvi Rai, Senior Vice-President, Asset Allocation and Sebastien Mc Mahon, Senior Portfolio Manager, Diversified Funds and Interim Chief Economist, join Vancity Investment Management ("Vancity") to manage our SRI (Inhance) managed solutions.

Tej and Sébastien employ a unique "human + machine" approach that combines expert human judgement with the power of technology-driven quantitative analysis.

Strategic and/or tactical asset allocation decisions, made through a top-down approach, will now be made by the iAIM asset allocation team

These decisions will be tailored to the ESG objectives of the SRI (Inhance) fund mandate.

Vancity's portfolio managers Jeffrey Adams, Marc Sheard and Wes Dearborn retain full control with regards to the securities being chosen in the funds.
Overview of roles and responsibilities
Activity

Lead

Contributor/Input

Security selection

Vancity

iAIM

Active asset allocation
and risk management

iAIM

Vancity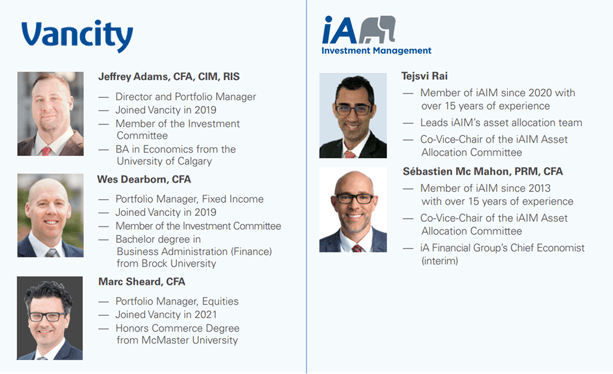 This synergy between the expertise of both entities will contribute to adding even more depth to the management of the funds and will be achieved through the establishment of a portfolio oversight committee, which will meet approximately eight times a year. Performance reviews, current positioning, and other funds and ESG considerations will be discussed.
Changes to the target allocation
New target allocation

Change

Moderate

Balanced

Growth

Moderate

Balanced

Growth

Fixed income

65%

45%

35%

+5%

0%

+5%

Equity

35%

55%

65%

-5%

0%

-5%
These changes are effective January 20, 2022. Fund marketing materials will be gradually updated over the next weeks.
For more information on SRI, see the SRI (Inhance) funds family sheet (F13-1111A), the Socially Responsible Investment (F13-1040A) document or visit ia.ca/responsible-investing.