On January 1, 2020, we merged iA Excellence and iA Financial Group. Since then, much work has been done to unify and harmonize your sales experience. Here is a summary of what's been done and a peek at what's to come.
Your compensation – Reminder
On September 21, 2020, your compensation from the ex-iA Excellence was merged with that from iA Financial Group. Here is a reminder of the changes made:
All living benefits sales are now paid with your iA code and displayed in the iA compensation reports.

Your new compensation reports* are available in Compensation tool via your secure

Advisor Centre

. (Compensation reports produced before September 21 can be found in Vision-R)

* For those who have access to the COMPENSATION functionality of the Advisor Centre.
Don't have access to the secure Advisor Centre ? Click here
For more details, consult our FAQ.
Your new business – Reminder
Remember that you can track your new business in Assure&go:
Applications and policies summary

Policy search

Electronic Applications PDF
Certain reports that you were used to consulting in Vision-R are now in Assure&go:
Renewals Report

Reminder Notices

Documentation (e.g.: contract copy, follow-up form or activation checklist)



Vision-R
remains accessible for those who had access before September 21, 2020 and allows you to view your history.
To learn about the My business tab on Assure&go, consult the guide: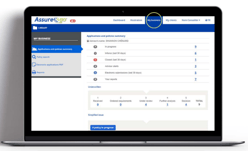 Want to make a sale via Assure&go and don't have access?
Contact us to set up your access and get it in less than 24 hours:
IT Help Desk

1-888-610-5101
For more details, consult our FAQ.
NEW – Coming in the next few weeks!
Our teams are still working to harmonize your experience so you can have a single advisor code and login at the beginning of the year! We'll communicate with you again shortly with more information on these next steps.
Please contact us if you have any questions.
Compensation:
IT access:
IT Help Desk

1-888-610-5101