At the beginning of each year, management expense ratios (MERs) can vary based on tax rates, whether upward or downward, and therefore, need to be updated. Find out how!
The Fund Codes and Management Expense Ratios (F13-1000A) document has been updated accordingly and is now available in the Document Centre and can be ordered from your provisioning centre.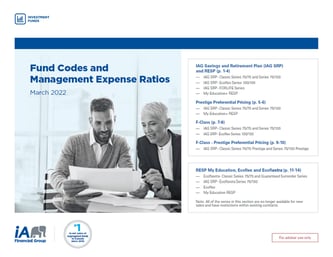 Do you have your savings essentials?
Whether you're a seasoned advisor or new to the business, your savings products sales kit should always contain the following documents and tools:
These marketing materials and portal are your reference tools for everything you need to know about iA's fund lineup, products, series, Prestige preferential pricing and much more!
If you haven't already done so, get your copies and discover the segregated funds portal today!