"We expect a modest recession in the near-term across developed markets as central banks continue to battle inflation, yet uncertainty remains." — Alfred Murata, PIMCO
In this monthly review, you'll learn about contributors and detractors to the portfolio's performance and know more about the portfolio manager's outlook and strategy:
Contributors
— Exposure to non-Agency mortgage-and asset-backed securities (MBS)
— Exposure to European residential mortgage-backed security (RMBS)
— Exposure to a basket of emerging market currencies

Detractors
— Exposure to US duration
— Exposure to emerging market local debt
— Exposure to Agency MBS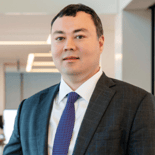 Alfred Murata
Portfolio manager, PIMCO


Segregated fund managed:
Global Fixed Income (PIMCO)
PIMCO is a trademark of Allianz Asset Management of America LLC in the United States and throughout the world.
---
DISCLAIMER
This document was produced for informational purposes only and does not constitute an offer or invitation to anyone to buy or sell any security, nor does it indicate an intention to trade in any fund or account managed by iA Financial Group and its subsidiaries. It is intended for advisor use only and should not be reproduced without permission.
The information provided herein does not constitute financial, tax or legal advice. Investors should always consult a licensed financial advisor before making any investment decisions. The commentary on a Fund is provided by the portfolio manager who is responsible for managing the Fund's investment portfolio as specified in the Information Folder and the Fund Facts document ("Portfolio Manager"). Statements made by the Portfolio Managers represent their personal views and do not necessarily reflect the views of iA Financial Group and should not be construed otherwise. This information does not constitute a recommendation to buy or sell any particular security. Results are for illustrative purposes only. Fund managers may buy and sell securities at any time, and the value of the securities they hold may rise or fall. Past performance of a security may not be repeated. Unless otherwise indicated, the information is from the portfolio manager. Forward-looking statements are based on the portfolio manager's outlook at the time they are made. Actual events may differ. iA Financial Group assumes no obligation to update the information provided herein. The information contained herein may not reflect all of the terms, conditions and risks of investing in segregated funds. Please read the Information Folder and the Fund Facts document for more details on the specific risks of investing in segregated funds.

Any amount allocated to a segregated fund is invested at the risk of the contractholder and may increase or decrease in value. The returns shown, if any, are the net returns of the MER. Commissions, trailing commissions, management fees and expenses all may be associated with investments in segregated funds. Please refer to the Information Folder and the Fund Facts document before investing. Although segregated funds offer guarantees, their values change frequently and past performance may not be repeated.

© iA Financial Group, 2023. All rights reserved. iA Financial Group, iA Wealth Management, Clarington Investments are trademarks of Industrial Alliance Insurance and Financial Services Inc. and are used by it and its affiliates under license.