As photos, posts and comments accumulate online, you must ask yourself if certain content compromises your image.
For instance, not maintaining your social media may affect your professional image. Indeed, your social media do not always show a positive and attractive professional image.
Google yourself with lucidity
Does Googling yourself seem a bit egocentric? Not at all! It's an easy and effective way to see how we appear online.
Each element must be consistent with the professional image you must project.
Even inactive, a Facebook account showing statements made in the past may bias or tarnish your profile.
Because everything is subject to interpretation, especially when taken out of context, insight is vital. When in doubt, delete!
Statuses that live up to your image
Everything that can be seen must inspire confidence, respect and professionalism. Scrutinize your comments on Facebook and other platforms, and analyze the pages you like as well as other elements for which you have expressed support. Sometimes we like a little too quickly. Among other things, when looking at your profile, people should not find political posts or controversial comments or comments of a personal nature.
Separate private content from public content. There are tools to manage who can see your content.
Also, out of consideration for yourself and others, make sure that information relating to you is accurate Updating your professional photo is a sign of courtesy.
💡 New in the Web Showcase
New posts of the week :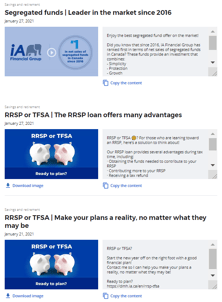 👉Post them on your social media, it's what they were created for!
💡 Stay tuned!
Each week, you will find a new article about the Web and social media in iA CONNECTED.
Have you read our most recent article in which we present you Facebook's sales lead forms?
Check it out!