Rising interest rates have multiple impacts. Beyond the various declines observed, they have had a positive effect on the returns of GIFs and HISAs offered by iA.
Access our most recent articles on volatility:
Guaranteed Interest Funds (GIF)
Guaranteed interest funds are among the first to benefit from rising interest rates since they offer higher returns than in the past few years.
For new investments, GIFs represent an interesting complement to bonds for investors looking for more financial stability. The portion of their portfolio invested in GIFs allows them, among others, to:
reduce the risks associated with volatility;

benefit from a fixed interest rate, as opposed to bonds or equity funds that are prone to fluctuation;

improve their portfolio diversification.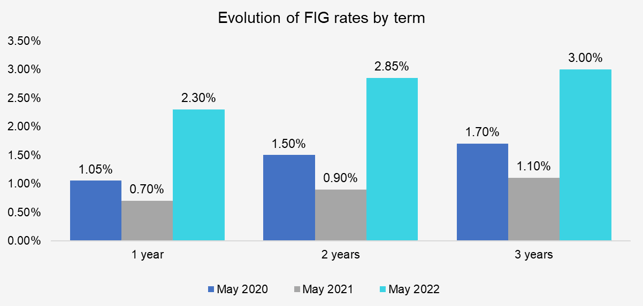 *Rates as of May 13, 2022
High Interest Savings Accounts (HISA)
Like GIFs, high interest savings accounts provide more security against volatility. The return offered by iA is also among the most competitive on the market: our rate has increased from 0.40% to 1.35%* since the beginning of the year.
In addition, unlike other financial institutions that may offer temporary promotional rates, iA provides a steady, competitive rate. More predictable and always attractive, it allows your clients to maintain their investment's profitability, regardless of its duration.
Common benefits
Our GIFs and HISAs also share many common benefits that may be of interest to your clients:
Can be redeemed at any time, unlike a bank GIC

Provide protection against creditors

Allow beneficiaries to receive a fast payment in the event of death

Have no management fees
It remains important to consider your clients' investor profile. GIFs and HISAs offer an enviable security in times of market volatility, but it is important to maintain a diversified portfolio to benefit from opportunities related to different asset classes.
* Rates are subject to change without notice.